As many sports columnists have now given Lefty a pass on his disgraceful performance on Saturday, let it be said don't include me on the list. To me it is incomprehensible that he wasn't immediately dq'ed and he created some idiotic story about it being a logical move. A lot … Read More »
Happy Father's Day to All! This week we talk
The tragic passing of Jordan McNair Terps in the NBA whip around A reflection on the ACC/Big Ten move with Wayne of Terptalk Radio.
Join Bruce with guest Pat Coyner as they talk US Open golf and more.
Listen here
Talking about the passing of Jordan McNair, US Open golf with Pat Coyner, the Ravens with Dennis, Caps win the Stanley Cup and more. Hosted by Bruce Posner with Wayne Viener.
Sometimes we get a chance to see a really cool event and this is one of those times – Bruce went to see the Springsteen Broadway play, here is a clip
SET LIST
Growin' Up My Hometown My Father's House The Wish Thunder Road The Promised Land Born … Read More »
From the Big Ten Network
With deep sadness we report that – Jordan McNair has passed away this afternoon.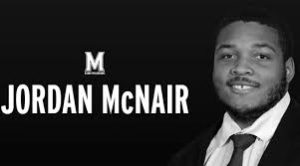 Our condolences to the his family and his teammates.
By Wayne Viener –
The celebration is probably still going on somewhere near Chinatown in DC.  The Caps win the Cup and the party has been wild.  Many more Caps fans showed up than I thought existed.
As part of a crowd of 500,000+ all I can say is "Wow", … Read More »
Jordan McNair passes away
Pat Coyner talks US Open
Dennis Koulatsos
and…
Wayne Viener on Bruce Posner and Bruce Springsteen.
The Caps and the parade