Certainly we all watched the greatest comeback of a world class athlete that we have ever seen. The improbability of Tiger winning another major was enormous as within 2 years ago, he thought he might never play again.
The cycle of that special hug with his Dad 22 years ago … Read More »
As the Terps trailed 9-4 midway in the 2nd quarter, I believed this might be a game in the lost column but a different team came out in the 2nd half as Tillman's halftime adjustments turned the game into a 16-13 victory.
The Terps are now 2-1 in the Big … Read More »
The 9th spring practice is also the 1st scrimmage of the Locksley era at Maryland.
TerpTalk is the source for Maryland sports interviews and postgame shows. With over 1,000,000 minutes watched on YouTube – Terp fans agree.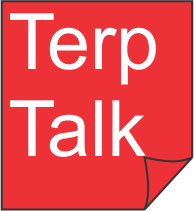 Here is the April 10th show – thanks to Koons Ford. Click on link below to listen.
https://soundcloud.com/terptalk/terp-talk-20190410
The defensive line gets ready for today's scrimmage
Maryland football rolls into practice #9 with a scrimmage session today at Maryland Stadium. The spring game 2019 is on April 27th at 12p. That is followed by the rivalry lacrosse … Read More »
JeShaun Jones started last season with a bang. 3 td's versus Texas. This year he is already the top wideout. Here he is after practice on 4/11/2019.
TerpTalk videos have over 1,000,000 minutes watched on YouTube. This is … Read More »
Keandre Jones originally committed to Maryland as a senior at Good Counsel in Olney, MD. He then changed his commitment to Ohio State. 3 years later, he has transferred to Maryland.
TerpTalk videos have over 1,000,000 minutes watched … Read More »
Piggy and Borty spread the ball around in spring football practice.
TerpTalk videos have over 1,000,000 minutes watched on YouTube. If you are looking for a view inside the Terps, this is the place with on-field videos and … Read More »