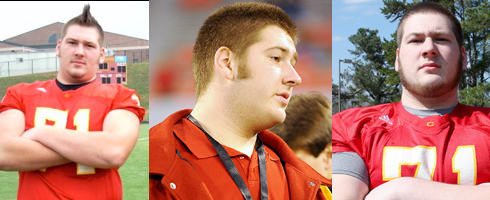 From terrapintimes.com, we learn that the Terrapins have set their sites on Georgia Offensive tackle 6'6 315 lb Alan Posey. "They have a good program and Coach [Tom] Brattan is one of the best. They have put out some good tackles. So they got a good program," Posey said.  Maryland, Clemson, Tennessee, Georgia Tech, North Carolina, NC State, Cincinnati and a host of others have offered.  "Maryland is recruiting me hard," he said. "They have a good program here and good history and tradition."  Posey is considering Criminal Justice as a possible major, thus another plus for the Terps.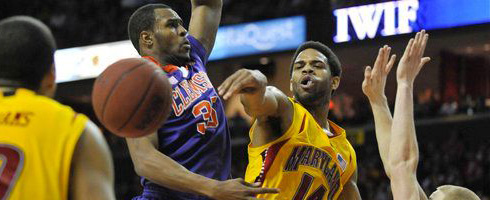 Boxing experts say that that true champions are able to get off the canvas, recover and then knock out their opponent. Early in this game, Clemson delivered an early knockdown blow–going up by 15 and seemingly in total control of the game.  But there is tremendous heart in this Terrapin team. They clawed, scratched and fought back eventually taking the lead when their Captain Vasquez nailed a 3 to put the Terps up 66-63. Before you blinked, a Hayes 3, a Greivis steal and stuff and the Terps were up by 10.
It is patently absurd that the Terrapins are not ranked. Find me an ACC team that was 9-3 in the conference and not in the top 25.  Gary has gone 9 deep with this team and it is paying off royally–Tonight Cliff Tucker's 3 buckets keyed the final push of the comeback. Gary Audio Gary post Clemson
Jordan Williams is rapidly filling that low post void–more then holding his own against NBA future 1srt rounder, Trevor Booker. Jordan finished with 18 points on 8-12 shooting. More important he is moving great without the ball and winding up with layup after layup. I asked Jordan about this after the game. Jordan audio.Jordan Clemson
Sean Mosley still is too unselfish but his early scoring kept the Terrps in the game. Sean was fantastic tonight scoring 20 points on only 8 shots. He hit a crucial 3 during the comeback. Audio Mosley Clemson
Greivis was under the weather with stomach cramps before the game.  Clemson double and even triple teamed him early. The shots were not there but Greivis found his way to 13 assists, while still scoring 13 and hitting 2 daggers to take the lead and secure the victory. Clemson again pressed the entire game and like Georgia Tech it was mainly to disrupt the rhythm of the Terps. But when these guys get rolling there is no stopping them. Gary addressed this in the post game.
When Eric hayes is on, Maryland wins. 6-9 from the field and 3-3 from the 3 point line. 15 points and 0 turnovers. The hokies got crushed on the road by BC and now trail the Terps by 2 games. The terps travel to Blacksburg Saturday at 4PM to face Malcolm Dulaney and Company.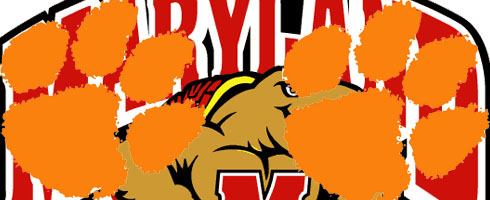 Here is what stands out about the Terps 9 point loss at Littlejohn in late january.
Terps shot 34%. had 26 turnovers and only 8 assists. Jordan Williams stat line: 13 points   13 rebounds!!!
Greivis had 10 points with 9 turnovers and Landon had only 3 points. These stats won't be repeated on Wednesday night.
On the other hand Clemson had 21 turnovers. Stitt  did not play and Tevor Booker was 2-16 from the field. So a team not at its best beat the Terps in their worst performance of the year. Be wary Clemson. You will be pressed!!! Check out my pre and post game report on 105.7 the Fan with Jeremy Conn.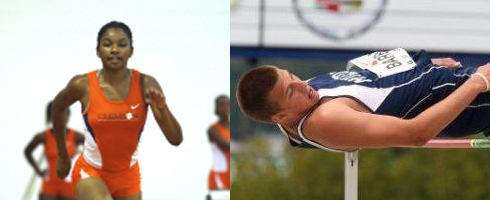 Maryland sophomore Dwight Barbiasz and Clemson junior April Sinkler were named Atlantic Coast Conference Men's and Women's Indoor Track and Field Performer of the Week, respectively, for the period ending January 17.  Barbiasz provisionally qualified for the 2010 NCAA Indoor Track and Field Championship in the high jump, while Sinkler, the second Tiger female student-athlete to earn performer of the week accolades in as many weeks, provisionally qualified in three events.
We have been taking requests to start talking more about Clemson University, so more to come in future months as we get into football season.  The Terps play the Clemson Tigers on October 3, 2009 in College Park.