All the sites say the great Tobias Harris is a longshot to select Maryland.  With the addition of Ashton Pankey to the 2010 recruiting class. Maryland will now be stacked with bigs next year. Tobias wants to be the point forward in college. It's about the only position the Terps don't have covered. Whatever Harris does, this is a great recruiting class. Terrell Spoglin is certainly one of the top point guards in the country. Terrence Ross is an incredible raw talent. Mychal Parker —a great small forward. Add Jordan Williams, James Padgett, Sean Mosley and Adrian Bowie and Maryland will begins it's charge to the top in 2010. Optimism reigns supreme at College Park. Hats off to Gary and the coaching staff for a tremendous job!!!
Last year, I journeyed to Rockville to watch Stu Vetter's Montrose Christian team. That day when I watched Terrnce Ross, I immediately could see what an impact player he could be.  Late in the 3rd quarter a I first got to see Justin Anderson. I was flabbergasted when I was told he was only 15. He is 6'6 220lbs and strongly built. He was nailing shots from everywhere, freelancing and fitting right into Montrose's style. 15 years old—amazing. terrapintimes.com had a great article on him today and they stressed how fond Justin is of Greivis.  Every big program in the country will be after Justin.  Let's remember he is only a sophomore in high school!!!
From the terrapintimes.com, it is obvious that Terrence Ross is going to be a special Terp. terrence elected to stay at Montrose over the summer and work on his game with Coach Stu Vetter and of course get his grades in order. Being so close to Colleye park, he has buily a great friendship with the 2 freshmen –Jordan Williams and James Padgett. Terrence keeps close contact with his committed 2010 mates Mychal Parker and Terrell Spoglin. "I haven't talked to Mike (Parker) for a few days, but I am constantly talking and texting with Terrell (Stoglin)," said Ross. "We were just texting back and forth today. The three of us are close and are really looking forward to playing together at Maryland. We think we can all make an immediate impact and I think it's a really solid class Maryland has coming in. Our goal is to get Maryland to the Final Four, and to contend for a championship." This is a major part of the reason that some of the remaining super undecided recruits—Pankey, Tsafack Harris have the Terps as one of their possible choices. The 2010 team with Mosley, Adrian Bowie, Williams, padgett, Goins,etc will be special.
Last year, Baltimore's Sean Mosley certainly proved he could play on the ACC level. His defense was excellent. His court sense was unmatched by anyone on the team. He did so many little things that don't show up in the stats. Howver his offenseive output was not as excellent. Now , he appears much more comfortable. His shot looked much improved but he finished the way I remember he did at St Frances. I will say it now –Sean will have a breakout sophomore season. I absolutely can not wait for the season to begin. Some observations of a great night:
–Dino Gregory was certainly smooth hitting a pair of jumpers.
Jordan Williams can definitely rebound but as we all expected his offense will take some time.
James Padgett again appeared to be a rebound magnate.
Landon looked good slashing to the bucket. It was good to see Eric running the court. His rust shows from his injury idled time.
Greivis was Greivis, certainly having more fun then anyone in the building.
Gary as he did on my show seemed to project a quiet confidence stating he desires high expectations.
All in all you had to have a good feeling about this team.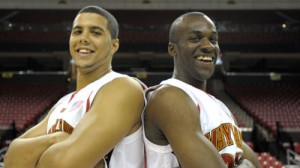 Over the weekend an article in the Arzona news began to speculate that perhaps PG Terrell Spoglin was reconsidering his verbal to Maryland and might open up discussions with Arizona. Yesterday terrapintimes.com interviewed the much heralded Senior and Spoglin cleared the air by saying he is definitely going to be a Terp and hopefully will sign the early committemnt letter. Terrell stated that the writer twisted evrything he had said and more or less created the UA reference. Along with Mychal Parker and Terrence Ross the Terps have gathered three of the top frontcourt men in the nation for its 2010 recruiting class. On other recruiting news Josh Henderson has given his verbal to Vanderbilt. Josh was somewhat on the Terps radar thoug though Maryland never offered. Again PF Ashton Pankey from St Anthony's in the Bronx seems to be the next Terrapin target.
It seems like it is time to drop Oregon PF Terrence Jones from Maryland's wish list. Yesterday it was reported on terrapintimes.com that Jones did not include the Terps in his top 7 selection of schools. I guess his friendship with Terrence Ross went only so far. However, I am still ecstatic about the addition of Ross. This kid can flat out play and will be  an instant success story at Maryland.
It's funny how the situations can change in the recruiting world. Three excellent perimeter players have given their verbal commitments to Gary for the 2010 class. Therefore any big man thinking clearly realizes Maryland is the place to go. Perhaps the Terps really covet Terrence Jones PF out of Oregon and one of the most sought after 2010 recruits in the land. But now it seems that Hippolyte Tsafack wants in at Maryland according to the Sun's Matt Bracken.
"One of Mychal Parker's most notable teammates at the Miller School is Hippolyte Tsafack, a 6-foot-8, 230-pound power forward from Cameroon. His recruitment is kind of all over the map," Assistant Coach Tom Landseadel said. "He's got a couple high-major schools that have offered, including Auburn. He's still kind of trying to feel things out. We'll get him to take a couple visits this fall and try to figure out what he wants to do." Maryland has been one of the high-major schools that have monitored Tsafack's progress for quite some time, although it's unclear how heavily the Terps are pursuing him. "I know Maryland's near the top of his list," Landseadel said. "I haven't had a chance to speak with anybody from the Maryland staff this summer, so I don't know how heavily they're invested in him at this point. I know that would be something that Hipp would really like — to be a Terrapin." It should be interesting to ee how this plays out.
Terp Talk Thursday Night 8-20-09
Host–Bruce Posner CoHost–Dino Guest Tom Landseadel Coach of Mychal Parker
Subjects–Mychal Parker Commits to Maryland!!, Stan -Bruce Interview of Ralph Friedgen
IT"S OFFICIAL. Mychal Parker, 6'6″ #3 from Miller School in Virginia has given his verbal to jointhe 2010 recruiting class.  Tune in tonight on Terp Talk to hear from one of his High School Coaches-Tom Landseadel. Also tonight we will discuss the passing away of Bob Novak, a great terrapin bball fan. Listen live on ESPN 1300 or click the listen live button on the site. Email any comments to bposner7@gmail.com.
It's a great day to be a Terp. Keith Cavanaugh and terrapintimes.com reported tonite at 11:04 PM that Mychal Parker a major target of Maryland's coaching staff will announce his intention to attend the University of Maryland sometime Thursday and join the 2010 recruiting class. If this is true, this will certainly put the Terrapins' 2010 class way up on the charts. If the final piece of the puzzle Terrence Jones is landed, this could easily be a top 5 class. The coaching staff pursued the 6-6 190 lb Parker as much as possible and hopefully the persistence has paid off!!!!! Much more on Parker tonight at 6PM on Terp Talk. Check out the youtube videoon Parker.    
Terrell Stoglin, 2010 verbal commit to Maryland, has been playing at an extreme high level in the Las Vegas Nike camp.  Before Coach Williams and Rob Ehsan, Stoglin has certainly impressed all according to terrapintimes.com. Terrapin target Terrence Jones, forward from Oregon, has stunned all observers with his play.