If you are even a casual listener to Terp Talk, you know how much these games meant to the 2 teams and their fans, myself include.  With that in mind, I arrived early as we can see in the pics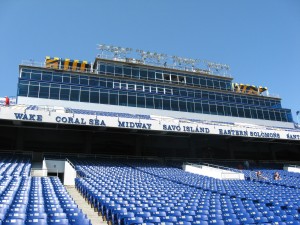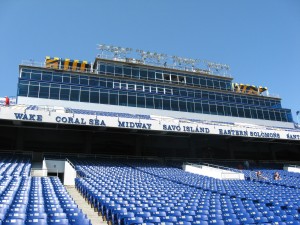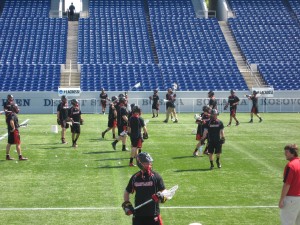 The Terps were loose and as I watched them warm up, confidence grew.  In my 2 years of covering the team and 30 years of watching, I have never seen a team come out as strong as the Terps.  With a 19-2 advantage in ground balls and a big faceoff edge–the Terps were only up 6-4, after breaking out of the gate 3-0 within a few minutes.Bryn Holmes, Brian Farrell, Grant Catalino and Jeremy Sieverts have emerged as leaders of the team and their stellar play reflected as much today,   With about 6 minutes left a goal by Travis Reed was disallowed for a reason I still do not know and somehow Maryland retained possesion.  The score stayed at 7-6.  Even after UVA tied the score 
, Maryland had several chances to score and win.  But not today.  Virginia took its only lead of the day as it scored a sudden death goal to squash the dreams of this young Terrapin squad.  A devastated Coach Cottle , Catalino, and Farrell addressed the media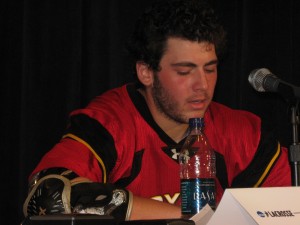 The outlook of the Men's team is excellent with the team loaded with current freshman and sophomores.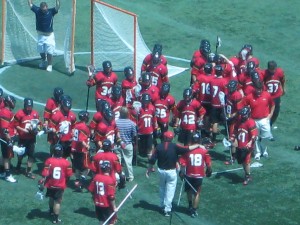 To make matters worse the Lady Terps were upset by Duke 9-7.  The pain of this loss will be on display next Friday night when the National Championship game will be played at Towson, without the marquee team.   Elsewhere the O's continued their winning ways holding off a late rally beating the Senators 6-5.  Of course Big Brown destroyed the competition on his way to capturing the 2nd leg of the Triple Crown.
May 18th, 2008 |
0 Comments »
No comments have been posted yet, be the first!
Post a comment by filling out the form below.