Wake's Defensive Secondary? Chris Turner torched this vaunted defense for 321 yds completing 29 of 41 with no picks.  I thought Darrius would have a breakout game and he did, catching 11 passes for 101 yards and 1 td.  Riley Skinner never really mounted a significant drive as the the Terrapin defense throttled possession after possession. Is this the same team that lost 31-0 to UVA? Obi connected on 4 FGs hitting his ninth in a row. The Terps move to 5-2 and 2-1 in the conference. What scares me is that winless (in the ACC) NC State is next!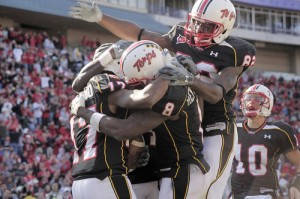 t
October 18th, 2008 |
0 Comments »
No comments have been posted yet, be the first!
Post a comment by filling out the form below.