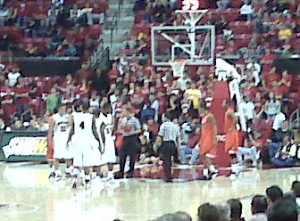 Eric Hayes recorded his first double double of the year- 10 points and 11 assists, (0 TURNOVERS) to lead the Terrapins to amust win over the Cavaliers.Milborne and Bowie combined for 33 points efforts with strong drives to the hoop. eric-after-uva  mosley-uva   Dino Gregory played a strong 12 minutes in the first half contributing 8 points in one of his best efforts as a Terp.dino-uva  Dave Neal suffered a gash over his left eye early in the game but returned late in the 2nd half to nail a key 3 pointer. Next up for the Terps is Duke Saturday at Durham, a game i will be attending.
After all the traffic warnings, I don't ever think I got to a Maryland game faster.
Ravens owner Steve Bishotti was beseiged with questions about #52's future with the team.
Braxton had 3 shots go in and out on him—his outlook is improving.
The Terps were 21-24 from the free thow line and continue to rank 6th in the country.
No surprise, Missy Meharg was named NCAA Field Hockey Coach of the Year—who else would it be?
Terp Talk will be on this Thursday night at 8PM.
January 21st, 2009 |
0 Comments »
No comments have been posted yet, be the first!
Post a comment by filling out the form below.