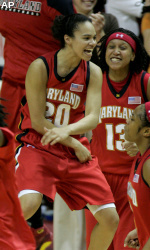 Once again sharpshooter Kristi Tolliver responded when she was needed, hitting aa 3 point shot as the buzzer sounded to lift the #13 Terrapins to a victory over previously unbeaten (6-0 in the ACC) FSU. The Lady Terps move to 5-2 in the conference and 17-4 overall. It seems whenever Kristi is on her A game she finds a way to will the team to victory. The prospects are high as Tolliver and Marissa Coleman's final days in College park wind down.
       Check out Kristi's famous shot against Duke in the 2006 Championship Game:
V
February 3rd, 2009 |
0 Comments »
No comments have been posted yet, be the first!
Post a comment by filling out the form below.