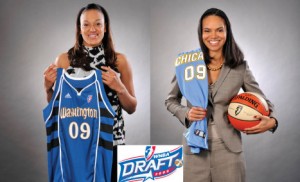 Four years of dedicated team play paid off on Thursday, as 2 Terrapin superstars, Mariisa Coleman and Kristi Tolliver were selected 2nd and 3rd in the WNBA draft. Marissa joins former Maryland teammate, Crystal Langhorne, who was also a 1st round pick for the Mystics last year. Coach Brenda Frese was on hand for the festivities. Baltimore's Angel McCoughtry was selected 1st in the draft by Atlanta.
April 9th, 2009 |
0 Comments »
No comments have been posted yet, be the first!
Post a comment by filling out the form below.