Last year, Baltimore's Sean Mosley certainly proved he could play on the ACC level. His defense was excellent. His court sense was unmatched by anyone on the team. He did so many little things that don't show up in the stats. Howver his offenseive output was not as excellent. Now , he appears much more comfortable. His shot looked much improved but he finished the way I remember he did at St Frances. I will say it now –Sean will have a breakout sophomore season. I absolutely can not wait for the season to begin. Some observations of a great night:
–Dino Gregory was certainly smooth hitting a pair of jumpers.
Jordan Williams can definitely rebound but as we all expected his offense will take some time.
James Padgett again appeared to be a rebound magnate.
Landon looked good slashing to the bucket. It was good to see Eric running the court. His rust shows from his injury idled time.
Greivis was Greivis, certainly having more fun then anyone in the building.
Gary as he did on my show seemed to project a quiet confidence stating he desires high expectations.
All in all you had to have a good feeling about this team.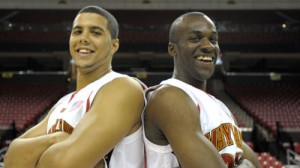 October 16th, 2009 |
0 Comments »
No comments have been posted yet, be the first!
Post a comment by filling out the form below.