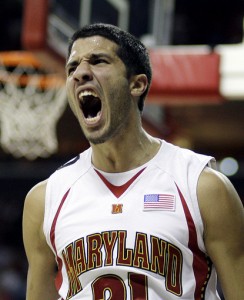 Some observations of of a good home victory for the Terps:
Dino's influence on the team was immediately seen, The Terps played with more fire with Dino handling interior defense in a way that hasn't occurred this year so far. He nailed 2 mid range jumpers and played a quality 33 minutes.
Jordan came off the bench and played a solid 10 minutes, scoring 4 and getting 5 boards.
Greivis after a slow start was sensational in the late 1st half and 2nd half. His 2 threes really catapulted the Terps to victory. He unleashed his passion tonight using it to keep him on a high level. I watched the special on the U in the 70's and 80's and it was clear that only by unleashing its passion did the U prosper.
Landon was back to his usual game tonight 19 points and 9 bounds, after a subpar Villanova game. Landon also benefitted from the return of #33.
A great crowd of 16000 attended the game today–not bad for the holiday season and finals week.
I was not surprised at all by Eastern Kentucky—they had been shooting over 40% on threes all year and sported a 7-2 record.
Yes at 60 all with 8 minutes left I was sweating just a little, but the game always seemed at hand.
Sean Mosley had another solid game with 13 points and 6 rebounds.
Gary commented on the play of Dino and Greivis post game:
On Dino Gregory:
"What he did in February and March for us last year should not be understated because Dave Neal did a great job. But we needed somebody big inside that could control things and Dino did that for us, even though it didn't result in a lot of points. We have guys that will score but we need guys that will stop people; Dino is one of those people. "
On Greivis Vasquez:
"I thought Greivis today was great. He was really in tune with what he was trying to do and what we were trying to do."
The Terps are now 6-3 and have 10 days off until their next matchup on Dec 22.
December 13th, 2009 |
3 Comments »