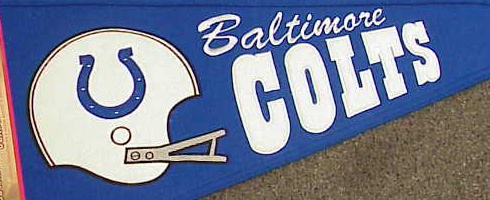 Maybe it's been 26 years since that dark night in March when the Irsay family and the Colts slithered out of Owings Mills.  I will never forget the despair I felt  that night. Maybe I took it too personal and I assure you a Ravens upset victory would never cure the 13 year loss of football we suffered.
But it would sure feel good for a couple of days!!!!
I still occasionally refer to the Ravens as the Colts.  Do you?
Up at the top of old Colt fans lies our great owner Steve Bishotti. Whenever old Colts memorabilia appears on the auction circuit, it is rumored that the unknown buyer is always the Ravens owner.
I guess you have to be at least 37 or 38 to possess the Irsay dislike like I do. Just the thought of that snowy night sickens me. Maybe the only Raven who understands this feeling is #52. He has been here so long and must have heard the tales thousands of times. Look for him to step up big time today.
My formula for winning:
Jared Gaither must play. We can't survive an Oneill Cousins tonight.
Win the toss and take the ball. We need to score first.
Hit Peyton (legally) as often as possible.
Continue to cut out the stupid penalties.
Ravens 24 Colts 23 as Billy Cundiff boots a 40 yard FG at the gun!!!!!!
January 15th, 2010 |
2 Comments »