It was Judgment Day for Billy Cundiff yesterday in the overtime. And unlike Hauschka last year, Billy passed with flying colors. I like his magic kick off shoe, he switches to after every FG or PAT.
Todd Heap seems to be ko'd every game.
I had originally said that Ed Reed should be held out of the game yesterday and not used until the by week was over. Without Ed Reed we lose yesterday.
There will be no more jokes about Ryan Fitzpatrick and the Harvard Quarterback. Ryan picked apart the Ravens' defensive secondary and actually beat Fabian Washington so many times, Harbaugh was forced forced to yank #31. Josh Wilson did a credible job in overtime but still was guilty of a costly fumble on a kickoff return in the 1st half.
Only Ray Lewis could have stolen the ball like he did on the turning play of the game. The 15 yard unsportsmanlike conduct call actually won the game for the Ravens.  I was shocked to see the Ravens actually run a 3rd down play before the field goal. So many bad things could have happened. Holding, a fumble, a procedure call on top of which a third down attempt prevents the effect of a bad snap.
Halftime was a great event as the Super Bowl Champs celebrated their 10th Anniversary. Where was Jermaine?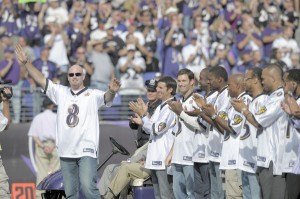 That's Trent Dilfer being introduced to a rousing reception.
All in all it was a pretty fun game to watch although from the tone of the crowd as it left, it seemed like we had lost.
Do you ever notice that when the Vikings lose, Brett Favre limps off the field or clutches his elbow or knee?
The Miami Dolphins were absolutely robbed of victory. It's 11:30 at night now and the Dolfans are extremely bitter on talk radio.
October 24th, 2010 |
0 Comments »
No comments have been posted yet, be the first!
Post a comment by filling out the form below.