MO = Sarah Mollison 5 goals 5 assists
JO = Karri Ellen Johnson 5 goals
MOJO Created by Jodi Fick SID for Women's lacrosse
Sarah Mollison scored a career-high 10 points on five goals and five assists as No.1 Maryland toppled Towson, 17-8, in non-conference action on the road Tuesday. Karri Ellen Johnson netted five goals and Katie Schwarzmann added three to join Mollison in a three-pronged attack to lift Maryland (11-0, 3-0 ACC) to its 21st consecutive victory. Kristy Black registered five ground balls and a pair of caused turnovers to pace the Terp defense.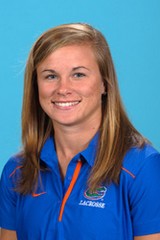 FYI -I am glad to report that Tewaaraton Award Winner and Captain of the 2010 NCAA Champion Women's Lacrosse Team, Caitlyn McFadden (Yes That is Caitlyn in Gator Blue and Orange) is doing great in Florida as Assistant Coach to the New Gators Lacrosse Team. How about a final four with Florida with Caitlyn, Northwestern with ex Terp Kelly Amonte Hiller, Loyola with ex Terp and Head Coach Jen Adams, and of course Cathy Reese and the Terps. Wow–who dominates Lacrosse.
March 29th, 2011 |
0 Comments »
No comments have been posted yet, be the first!
Post a comment by filling out the form below.