It was a freezing night at the Yards last night, so everyone in attendance was thankful to #21 for ending the pitching duel. Chris Tillman was at the top of his game tonight. Only a weak ground ball that got past Casilla, who by the way forgot to dive for the ball, prevented him from a W. Chris pitched 6 2/3 innings, allowing 4 hits and just 1 run.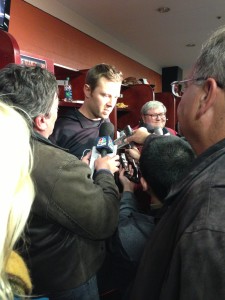 Some comments:
Manny Machado continues his near flawless defense. For the 3rd time in 3 games, he barehanded a topped GB and threw out the runner.
Markakis seems to be the most solid, consistent hitter in recent Oriole history. For me, he should always lead off.
Some explosive balls off the bat just died in the outfield last night. My early prediction of how hard it would be to score last night turned out to be true. The extremely cold April weaher kept the crowd down to 11,000.
Not to surprising, Jake Arrietta was sent to Norfolk to join the rotation and hopefully pitch himself out of the funk that he is in.
April 23rd, 2013 |
0 Comments »
No comments have been posted yet, be the first!
Post a comment by filling out the form below.