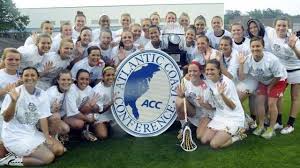 Picture from ncaa.com
Some observations:
This is the deepest Maryland team I have ever seen. The final score was not indicative of how one-sided this match was. Maryland went from a5-3 halftime lead to a 12-4 game and thenn just put the ball in the deep freeze. Goalie Casey Howard who patiently waited her chance after playing behind Brittany Dipper for 3 years, led a stifling defense.
There are just too many options for Maryland's offense Thus the Terps remain undefeated at 18-0.
It was interesting to hear Mike Hobegood wish the Terrapins luck as the next phase of the season begins–the Quest for the NCC Title. I wonder if Mike really meant it.
From umterps.com
No. 1 Maryland topped North Carolina 12-8 to capture its fifth-straight Atlantic Coast Conference Women's Lacrosse Championship Sunday at Fetzer Field.
The Terps (19-0) were led by hat tricks from Brooke Griffin, Beth Glaros and Taylor Cummings. Katie Schwarzmann – who was named ACC Championship Most Valuable Player for the second straight season – tied a championship game record with four assists against the Tar Heels (14-3).
UNC's Brittany Coppa and Kara Cannizzaro gave the Heels their first lead of the game with scores at 16:39 and 10:38 but Maryland surged ahead with three unanswered goals to cap the half with a 5-3 advantage at the break.
Kasey Howard led a solid defensive stand in the first half, tallying seven saves in the first 30 minutes alone.
The Terps kept that momentum rolling into the second, with three additional unanswered goals in the first five minutes of the stanza – including two from Griffin – for a decisive 8-3 advantage.
UNC finally stopped the scoring stretch with a goal from Emily Garrity at 24:11 but goals by Alex Aust, Griffin and Erin Collins extended the Maryland lead to 11-4. The Terps recorded six goals in the first 11 minutes of the period.
After a Cummings goal gave Maryland an eight-goal cushion with 14 minutes left, UNC recorded four straight to shrink the lead to five but the Terps held on for their 10th ACC tournament crown.
Maryland recorded a season-high 29 ground balls in arguably its best defensive performance of the year. Kelly McPartland, Iliana Sanza, Melissa Diepold and Cummings registered four apiece
April 28th, 2013 |
0 Comments »
No comments have been posted yet, be the first!
Post a comment by filling out the form below.