A post by Jordan
What is this series? – Terps in the Pros will cover the pro careers of Maryland Basketball players since they left College Park. Not just in the NBA, but any pro league across the globe.
As Terp fans may well know, Maryland doesn't have an abundance of NBA players, as it stands right now there are only two Maryland players (Jake Layman and Alex Len) that are currently in the NBA. However, there is no shortage of Terps overseas and in the D-League. In this series we will examine both those in the US (D-league and NBA) and those around the world. To kick it off, we have the son of a 7 time MLB all-star, DJ Strawberry.
DJ Strawberry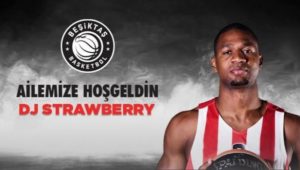 Played at Maryland 2003-2007
Currently plays for Besiktas, located in Istanbul, Turkey
Career at Maryland– DJ arrived at Maryland as part of the number 7 ranked 2003 recruiting class, he was ranked the number 84 player in the country (via 24/7 sports). Strawberry made an instant impact once he arrived in College Park, he was a defensive stud who led the team in steals per game in the 2003-2004 season, and as a key bench player, Strawberry averaged just over 20 minutes a game and shot .489 from the field. This is the year that the Terps lost to Syracuse in Denver in the round of 32.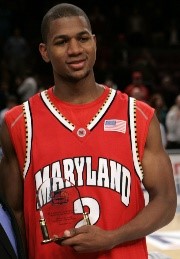 He was injured a majority of his sophomore year and the team struggled to the NIT as a result. He rebounded his junior year, averaging 10.3 points per game and hitting career highs in both 3 point percentages and free throw percentages.
His senior campaign was the 2006-2007 season. Both Strawberry and the Terps had a very good year. He averaged almost 15 points, as the team finished 18th in AP poll. Maryland beat Davidson (Steph Curry, freshman) and then lost to Butler in the NCAA tournament.
Pro Career
Early Career: NBA, D-League, and Italy


DJ has been busy since he left College Park after his senior season in 2007. He was picked with the 59th pick in 2007 NBA draft by the 7 seconds or less era Phoenix Suns. He averaged 8 minutes a game scoring 2.2 points per game over 33 games in his rookie season before he was sent to the D-league. In the D-League, he led the Albuquerque Thunderbirds in scoring with 31 points a game over six games. In August 2008 DJ was traded to the Houston Rockets and was waived in October.
A few days later DJ signed with the Italian club Fortitudo Pallacanestro Bologna, of the Seribe A2 (The Italian second division). He scored 29 points in his first European game. However, his production sharply dropped after that and he finished the season a respectable 14.7 points a game over six games
In April 2009 DJ injured his left knee and returned home to Los Angeles to recover. After a full recovery, Strawberry joined the Reno Bighorns of the NBA D-League who, at the time, were affiliated with the Orlando Magic. His play in Reno was good enough to earn a spot on the Los Angeles Lakers 2010 summer league squad. Strawberry averaged 13 points a game in the summer league. His strong showing the D-League was strong enough to earn a spot on the New Orleans Hornets on September 17th, 2010, unfortunately for DJ his contract was non-guaranteed, and October 20th he was waived.
After the Hornets waived him DJ resigned with the Bighorns. While on his second run with the Bighorns DJ played alongside several future prominent players including Danny Green, Jeremy Lin, and the 2017 NBA rebounding leader Hassan Whiteside. DJ was a top bench player, scoring 14 point per game and averaging almost 30 minutes a game.
On January 8th, 2011 DJ decided that Europe was the best option for him and signed with BC Lietuvos Rytas of Lithuania. Interestingly former Terp star Šarūnas Jasikevičius played for Lietuvos until December 31st, 2010, just a week before Strawberry signed. Although the team had its worst finish in the EuroLeague since its inception, DJ's play was strong enough to keep him in Europe until the present day.
European Fixture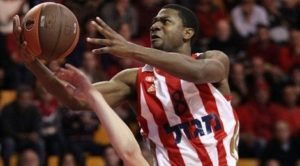 Soon after leaving Lithuania DJ signed a two-year contract with the Israeli Premier League club Hapoel Jerusalem BC. In the IPL DJ played well, averaging 15.6 points per game and playing 32 minutes' points per game. Hapoel struggled during the 2011 season and pulled .500 at 3-3 in EuroCup play, and as a result the team shed several high impact players including Strawberry who was released with one year left on his contract on June 25, 2012.
On September 20th, 2011 DJ Strawberry signed with the Croatian historical powerhouse club KK Cibona. Cibona played in the A-1 league, the Adriatic Basketball League (ABA) and the EuroCup. Cibona struggled be its high standards, placing 7th in the league at a 13-13 record. After a month long stop in Puerto Rico for Capitanes de Arecibo DJ returned to Cibona on July 12th, 2013. Cibona moved to Adriatic Basketball League (ABA) for the 2013-2014 season, but on December 25th, 2013 he was released by Cibona due to financial issues within the club.
On December 27th, he signed with the French club Élan Béarnais Pau-Lacq-Orthez based in Pau, France. Élan Béarnais plays in LNB Pro A, the highest league in France. DJ spent the remaining 16 games in France having one of best stretches of his career, averaging a European career-highs in minutes, free throw percentage and assists, while falling just short in points. Élan Béarnais went .500 that season and DJ moved on.
Repeat Champ
Once again DJ spent the summer in Puerto Rico, this time for Piratas de Quebradillas. After the summer, he signed a one year contract with Turkish Super League club Pınar Karşıyaka (or Karşıyaka Basket). DJ played in a key role in what would come to be Pınar Karşıyaka first League title since 1986. DJ averaged 28 minutes and 12.6 points a game.

DJ signed a two-year deal worth 1.4 million USD with arguably the most successful club in EuroLeague history, Olympiacos BC. Olympiacos had a great season, they captured the Greek League title, and were the runner-up for the EuroLeague title. On the flip side DJ struggled, with a near career lows or career lows across the board. As a result, he parted ways with Olympiacos after one season.
DJ signed with the Turkish club Besiktas J.K. for the current season (2016-2017). He has rebounded well after lackluster 2015-2016 in Greece. DJ currently starts for the club averaging 10.5 point a game. He has helped lead the team to the Turkish League finals and a lead in the group stage in the EuroLeague. We at Terptalk wish DJ the absolute best in his career across Europe.
Next time on Terps in the pros: James Gist!
June 13th, 2017 |
0 Comments »
No comments have been posted yet, be the first!
Post a comment by filling out the form below.