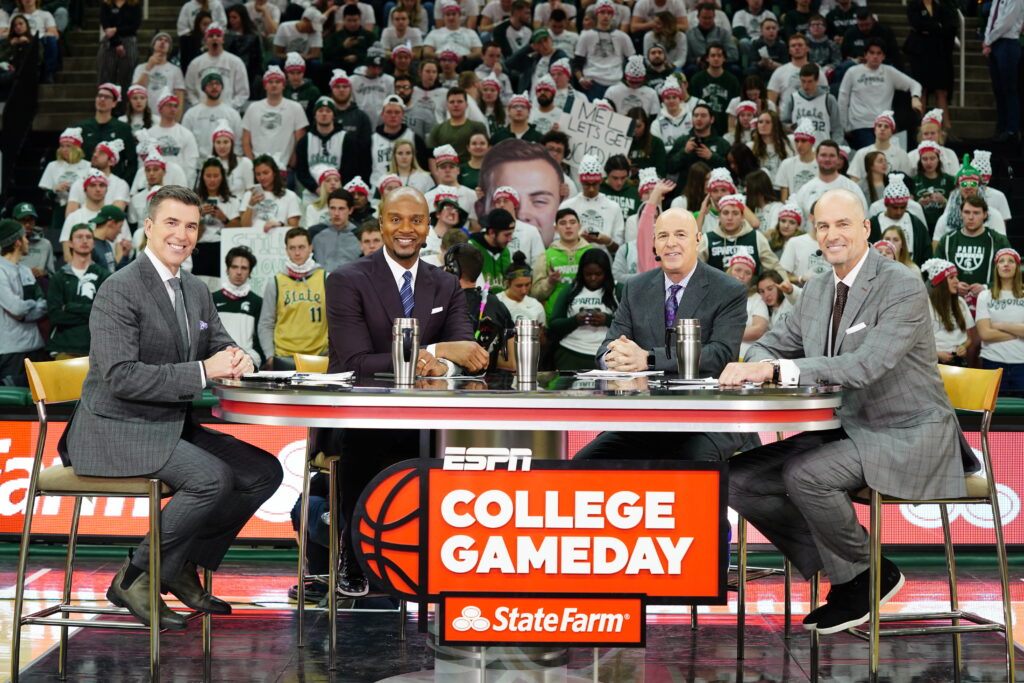 East Lansing, MI – February 15, 2020 – Michigan State University: Rece Davis (l), LaPhonso Ellis, Seth Greenberg and Jay Bilas during College GameDay Covered by State Farm (Photo by Joe Faraoni / ESPN Images)
The GameDay gang was a good luck charm for the Terps at Michigan State. The show this time around is from College Park this Saturday at 11 … Read More »
UMD Performs Wizardry to Overcome a 17-point deficit
Zachary Wilson and Wayne Viener
Following a rather ugly loss on Ohio State's home court in Columbus, the Terps continued their road trip with a journey to The Barn to face off against the Minnesota Golden Gophers.
For a .500 team with a 7-9 record in the Big Ten, Minnesota played to the exact opposite of expectations. Fighting for a potential bid in the NCAA tournament, the Golden Gophers cut no … Read More »
Defeat Minnesota 74-73 to up record in B1G 13-4
Some observations
This team is special—Period
For whatever stupid reason Cowan and now Stix have become targets of the referees the past 2 games. Xfinity will be fired up on Saturday against Sparty.
After sitting out almost the entire 1st half, Stix wound up with 16 points and 12 rebounds.
Cowan was 2-15 from the field but had 9 assists and 6 rebounds.
With 2 minutes to go the Terps trailed … Read More »
Ahead of the road trip at the Golden Gophers, Jalen Smith talks to the media
It's the 150th episode of the YoungTerps Podcast! We look at a bunch of non-rev news, as well as the Terps first MBB loss in five weeks.
From Terrapin Times – Class of 2020 combo guard Aquan Smart (Niles North/Skokie, Ill.) committed to Maryland back on Feb. 18, and he made his decision public Feb. 23. The 6-foot-3, 190-pound three-star, who earned the coveted Terps' offer during his official visit to College Park, Md., Feb. 17-19, said he can't wait to embark on his college career.
The Terps' 9-Game Win Streak Comes To A Screeching Halt
Zachary Wilson and Wayne Viener
With a potential top 5 ranking, Big Ten Conference title, and a first seed in the NCAA tournament on the line, the Maryland Terrapins headed into Columbus, Ohio to face off against the OSU Buckeyes. The Buckeyes, a top 25 ranked team according to the most recent AP Poll, were looking to stay ranked and reach a .500 record in Big Ten Play. They would … Read More »
2/23/2020
By Zachary Wilson
Maryland heads to Columbus in what will be a crucial game for the program. Let's go over some of the things that are currently at stake based on the result of today's match.
A Stronghold of the Number 1 Spot in the Big Ten
Following a surprising loss against Illinois, Penn State have now lost two in a row after their meteoric 8 game win streak to press the lead for Big Ten dominance. With … Read More »
Oh What a Win Today for the Terps Would Mean!!!!
By Bruce Posner –
By the way San Diego State lost at home to unranked UNLV. It looks to me that Kansas by virtue of its win over Baylor takes over the #1 spot. Where Maryland winds up depends on whether they win another Big Ten road game at Ohio State today at 4.