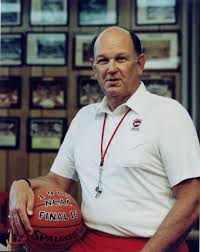 Listen here – Lefty Driesell guests on Terptalk w Bruce Posner in segment 1.  Dennis Koulatsos and Wayne Viener are on segment 2 and 3.
Wayne, Mason, Todd, and Dennis on all things Terps –
Here is Bruce talking NCAA Tournament with Scott Greene from Rivals. Wayne, Todd, Dennis all on tonight's show –
Bruce is in the studio tonight talking lacrosse, the NCAA tournament, recapping the great event at Cunningham's on Monday and talking spring football as well.
Tune in on 1300 CBS Sports Radio in Baltimore or listen live from our website.
The TerpTalk gang is at Cunningham's in Towson for a live edition of TerpTalk.  Come on by, tickets available at the door.  It all starts at 6:30 PM on Monday.
Join Bruce, Wayne, Mason, Todd and Jeff Baxter to fill out your tournament bracket, talk Terps hoops, lax and football.  … Read More »
Talking Terps lax, hoops and more with Bruce and Wayne.
Live tournament talk from Madison Square Garden at the B1G Tournament
Preview of Terps Wisconsin 1st Round Game in the Big 10 Tournament
Sean Miller is on the triple hot seat at Arizona.
It's time for some kind of revenue sharing for the top tier athletes in Collegiate Basketball and … Read More »
Bruce is behind the microphone with a host of guests –
Here are Wayne, Todd, Mason and Dennis from 2/14/2018
Join Wayne Viener, Todd Carton, Intern Mason and Dennis
Terp News – former QB Frank Reich is now the head coach of the Indianapolis Colts
Basketball season is not going the way we all had hoped.  Two home games left, record at 6-9 in conference.  Key question is the team … Read More »