by Will Gray of the Golf Channel
CROMWELL, Conn. – Better late than never.
Phil Mickelson's mea culpa came five days after he turned the U.S. Open upside down. It came after an attempt to rationalize his mind-boggling efforts on the 13th green only made things worse, and four days after he … Read More »
from umterps.com
On when he knew he would be selected by the Hawks and his feelings:
"I knew it was going to be Atlanta after San Antonio picked. My parents wanted it to be a surprise but I kind of wanted to know to get a … Read More »
from umterps.com
Former Maryland guard Kevin Huerter was selected in the first round of the 2018 NBA Draft Thursday evening by the Atlanta Hawks. Huerter was drafted 19th overall by the Hawks to become the 19th first round draft choice in program history.  
Huerter becomes the 58th Terrapin all-time to … Read More »
The "Young Terps"—one of top Podcasts in the country join the show for some Terrapin discussion.
Kevin Huerter awaiting his NBA fate and it has $$$$$$$$$ written all over it
My take on the "Lefty" putting debacle in the US Open
Barry Trotz gone—do the chances for a Stanley Cup … Read More »
From listening to NBA radio all day, it sure seems like it. LeBron, Kawhi Leonard, Paul George, and maybe even Chris paul to the Lakers. Of course if Popovich would ever agree–somehow it would take Kuzma, Ingram, and maybe even Randle to complete the deal. But most important Kevin Huerter … Read More »
As many sports columnists have now given Lefty a pass on his disgraceful performance on Saturday, let it be said don't include me on the list. To me it is incomprehensible that he wasn't immediately dq'ed and he created some idiotic story about it being a logical move. A lot … Read More »
US OPEN
Dustin Johnson . 71/2 to 1
Rory .     10-1
Justin Rose, Justin Thomas, Jason Day .   12-1
Rickie Fowler, Jordan Spieth  15-1
Jon Rahm, Tiger  17-1
LeBron to the Lakers .  7-5
Mon June 18 World Cup .  England . 5-2 over Tunisia
World Cup
Brazil    … Read More »
O's lose 2 zip to Boston–fall to 19-46 on pace for 47-115
Bundy was brilliant last night—wasted effort again
Davis has 0 HRs and 42 strikeouts in his last 88 at bats—last HR May 9
Parade in DC tomorrow for the Caps—expecting 300,000
In 2016 Golden State went 73-9 but … Read More »
Joe B calls in to discuss the Caps winning the Stanley Cup
Barry Trotz might not be back as the Coach—that would be worse then the Anquan Boldin mistake
Orioles keep stumbling along—pitching hasn't been all that bad
Warriors sweep Cleveland–it was revealed last night that the King played games … Read More »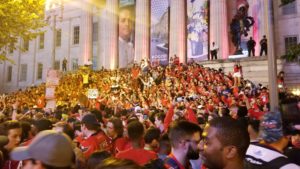 Finally OVIE has his Cup. How great was it to watch him celebrate. All hail Holtby for "THE SAVE" in game 2.
#8 was MVP. No doubt who was … Read More »