Alyssa Thomas scored a career-high 30 points and notched 12 rebounds to lead No. 8 Maryland to an 86-61 win at Boston College Thursday. Tianna Hawkins grabbed her 1000th career rebound in the win.
Hawkins scored 15 points, Malina Howard has 11, and Alicia DeVaughn added 10 points and eight rebounds for Maryland (22-4, 13-2 ACC). Thomas notched her 16th double-double of the season, which leads the ACC.
The eighth-ranked Maryland women's basketball team suffered through a cold-shooting second half Thursday and fell 60-57 at No. 15 North Carolina. Tianna Hawkins led with 23 points, 13 rebounds and Alyssa Thomas added 15 points, 16 boards.
The Terrapins led 35-29 at half, and shot 39.5 percent. To begin the second half, North Carolina jumped out to a 14-1 run and held the Terps bucket-less until Hawkins made a layup with just under 12 minutes to go. For the second half, the Terrapins (10-3, 1-1 ACC) shot just 23.5 percent, well under their season average of 48.4 percent. Nine of Thomas' 15 points came in the final five minutes as the Terrapins pushed.
Strong efforts by Maryland's 1-2 punch was negated by poor shooting from the rest of the team. Overall the Terps were 23-72 from the field for 31.9%. Next up #19 FSU on Sundat at 1:30 at Comcast.
Junior forward Alyssa Thomas of the Maryland women's basketball team was named to the Associated Press Preseason All-American Team, released this week. The team was voted on by a panel of national media members.
Thomas led the ACC in scoring last year with 17.2 points per game and was named ACC Player of the Year. She was just the second sophomore to earn the league's top individual honor. She finished the year among the best in the league with 8.0 rebounds per game, assists (3.2), free throw percentage (80.1) and defensive rebounds (5.5).
At the end of the 2011-12 season, she was named an AP First Team All-American, WBCA Division I Coaches' All-American and a USBWA All-American. from umterps.com
At least there was some good news last night!!!
Sophomore Alyssa Thomas of the Maryland women's basketball team is one of five players named to the Associated Press All-America First Team announced Tuesday.
Thomas, the 2012 ACC Player of the Year, is joined on the First Team by Baylor's Brittney Griner, Notre Dame's Skylar Diggins, Stanford's Nneka Ogwumike and Delaware's Elena Delle Donne.
Thomas is the Terrapins' fourth AP All-American. Crystal Langhorne (2006, 2007, 2008),Kristi Toliver (2008, 2009) and Marissa Coleman (2009) all earned the honor at least once in their respective careers.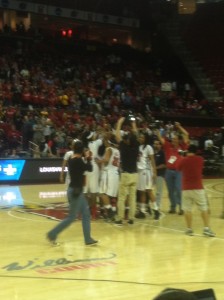 Just a great college basketball game last night before an enthusiastic hoe crowd at Comcast. Alyssa Thomas was taken out of her comfort zone last night , but a strong 24 point effort by Laurin Mincy led the way for a crucial win.
 Laurin Mincy scored 24 points, Tianna Hawkins had 15 points and 14 rebounds, and second-seeded Maryland beat seventh-seeded Louisville 72-68 Monday night to reach the program's 13th Sweet Sixteen.

The Terrapins trailed 64-59 with 6 minutes left before closing with a 13-4 run and limiting Louisville to only one field goal.

Maryland (30-4) will face the  defending champion Texas A&M  Sunday at noon or 2:30 p.m. in Raleigh, N.C.

 
Early on when the Terps were trailing 6-0, Brenda inserted Kim Rodgers into the lineup. Immediately a confusing 3/4 zone press was beaten, the team settled down, and the Terps quickly got back into the game.  Shoni Schimmel , Louisville's star player was certainly intriguing to watch. She fired up 25 shots, making only 8 but kept Louisville's offense at a breakneck speed.
ACC POY Alyssa Thomas was just too strong for Navy to deal with as the Terps coasted to a 59-44 victory that was not as close as the final score indicated. Thomas finished with 17 points after a slow start in the first hald. Laurin Mincy finished with 14.
Maryland enjoyed a 46-33 rebound edge although Navy got inside for a few buckets in the 2nd half.
Next up in the round of 32 game for the Terps is the winner of the Michigan State — Louisville game.
There was a serious lid on the Terps basket in the first half. Repeatedly Maryland missed inside shots that were probably a sign of pressing. Height and talent prevailed as Senior Kim Rodgers fired in 2 threes to turn the tide. In the 2nd half I look for the Terps to settle down and pull away. Navy seems content to fire up the 3s as they are unable to penetrate the interior defense of Hawkins, Thomas and Kizer.
There are 3 goals just about every ACC Team strives for–a regular Season ACC TITLE, a Championship ACC Title and a NCAA Title. Alyssa Thomas put the Terrapins on her back Sunday, scored 29 and was helped greatly by 2 late threes by Senior Kim Rodgers. The Terps begin their test for an NCAA Title on March 17 at Comcast.
 Alyssa Thomas scored a career-high 29 points and No. 6 Maryland beat No. 15 Georgia Tech 68-65 on Sunday to win the Atlantic Coast Conference tournament championship. Lynetta Kizer had 11 points and Kim Rodgers added 10 to help the third-seeded Terrapins (28-4) claim their 10th ACC tournament title and second in four years.
"Alyssa is by far the most competitive player I've ever coached and I've coached a lot of great players," Maryland coach Brenda Frese said. "Her will to win – our team just wants to follow her lead, and she was sensational."