Good fortune continues for the Terrapins today with the much sought after DJ Adams , 5'10" 210 RB from Georgia Verball comitting to Maryland.  Along with Caleb Porzel, and hopefully Tavon Austin the Terps could have one of the strongest recruiting classes in the country.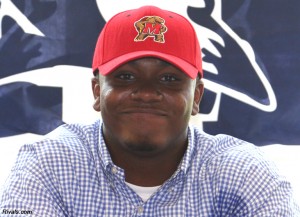 Georgia RB DJ Adams.
       The Orioles behind the strong hitting Adam Jones and Melvin Mora, stormed past Toronto 8-3, as they continue to score runs at will. Liz picked up the win tonight before 12000 at the Yards. 
July 22nd, 2008 |
0 Comments »
No comments have been posted yet, be the first!
Post a comment by filling out the form below.