Finally, Football season is here for the Terrapins. Monday marked day one of the preseason for 105 Maryland student athletes. notably absent from camp is highly touted wide receiver recruit , Kevin Dorsey who is most likely out for the season with a foot injury.  One major move for the Terps was Kenny Tate being switched to Strong Safety, with his option to return to wide receiver. Listen to some of Coach Friedgen's comments fridgien-press-media-day .  we will go over day one activities extensively on Terp talk on Wednesday.  Though Ralph keeps saying the QB position is up for grabs, I do believe he would be hard pressed to keep Chris Turner out of the starting lineup.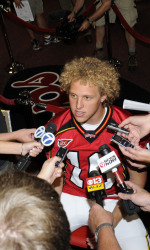 One of Maryland's strongest supporters, Robert Novak has announced his retirement from journalism on Monday due to dire cancer problems.  For years the controversial syndicated columnist has attended virtually every Maryland basketball game, home and away.
August 5th, 2008 |
0 Comments »
No comments have been posted yet, be the first!
Post a comment by filling out the form below.