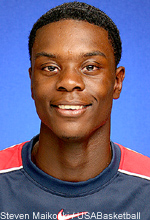 Lance Stephenson, the #4 Shooting Guard in the Class of 2009 from Brooklyn NY's Lincoln High made a surprise appearance at Comcast Center Saturday night and was serenated by chants of "We Want Lance" from the student body.  Lance is a teammate of Maryland 2009 recruit James Padgett.  

  Stu Vetter will be on Terp TalkThursday night to discuss all facets of Maryland Basketball.
       The Terps are preparing for a Tuesday showdown with the Tar Heels at the Dean Dome in Carolina. My guess is that Freshman Sean Mosley will remain in the starting lineup as the Terps try to repeat the upset from last year.
        The Lady Terps will try to avoid a 2 game losing streak tonight at Tallahassee against the Florida State Seminoles.
February 2nd, 2009 |
0 Comments »
No comments have been posted yet, be the first!
Post a comment by filling out the form below.