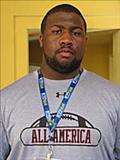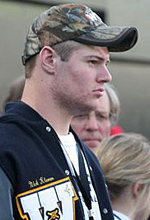 It was a great recruiting day for the Terps. Four star 6'5 325 lb Offensive Guard, Pete White (above left) committed to the Terrapins. This is what the Turtle report had to say about Pete: "At the point of attack there aren't many better than Pete White. His initial burst and punch are as explosive as there is. White is best suited to be an anchor type of guard that won't do a lot of pulling or be asked to block in space." Pete is ranked as the #5 OG in the country by Scout.com.
At the same time, Nick Klemm (pictured right) a 6'6 280 lb Offensive tackle opted out of his verbal to Boston College probably due to the firing of Jeff Jagodzinski, and also committed to Maryland. These additions further enhance the quality of Maryland's 2009 recruiting class.
February 4th, 2009 |
0 Comments »
No comments have been posted yet, be the first!
Post a comment by filling out the form below.