Scout.com has Maryland's linebacking corps ratedas #7 in the country. Led by Darin Drakeford 6-2 220 from Roosevelt High in DC, the class also includes Ryan Donohue 6-2 220 from New Jersey, Lorne Goree 6-2 200 from Springdale, Md, Bradley Johnson 6-1 210 from Dinwiddie, Va, Avery Murray 6-1 220 from South Carolina, Isaiah Ross 6-2 248 from Eleanor Roosevelt High in Md, and Marcus Whitfield 6-2 220 Northwest High in Germantown.
Drakeford is ranked #41 nationally by Scout.com. As a senior, Darin posted 124 tackles, including 14 sacks, and four forced fumbles. Avery Murray also was ranked high by Scout.com and had 104 tackles, 4 sacks, and 2 ints as a Senior.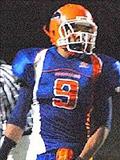 Darin Drakeord
February 7th, 2009 |
0 Comments »
No comments have been posted yet, be the first!
Post a comment by filling out the form below.