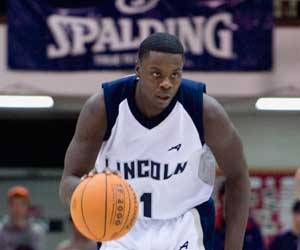 As reported tonight in Zagsblog, James Padgett tallied 18 and 16 rebounds to fo alonf with Lance Stephenson's 40 points leading the Lincoln Railsplitters to a 81-61 win in the Brooklyn Borough Title Game. Amazingly this was Lincoln's 5th game in 6 nights.  The picture above is of Born Rady, Lance Stephenson who tonight broke Sebastian Telfair's New York State scoring record. According to Adam Zagoria, Lance is down to 3 final schools St John's, Maryland and Kansas with the Johnnies leading the pack. Padgett of course is alreadt committed to Maryland for 2009.
February 16th, 2009 |
0 Comments »
No comments have been posted yet, be the first!
Post a comment by filling out the form below.