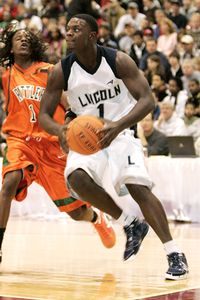 For a real update on Born Ready click zagsblog.com
Some highlights of the article: It looks like March 21 is decision day for Lance. Here is part of the article concerning the Terrapins:
"Prior to the Kansas visit, Stephenson visited Maryland. His teammate, 6-8 forward  James Padgett, has already signed to play for the Terps.
"Me and James are cool," Stephenson said. "He said he wants me to come with him to college and we can play together like we played in high school. And I'm looking forward to that, too. It's just a hard decision for me thinking about college and trying to win a city. So I'm just trying to stay focused on winning the city first and then look forward to college."
Maryland coach Gary Williams came to Brooklyn recently and saw Stephenson drop a career-high 50 points on FDR in a playoff game. Williams has taken some heat in The Washington Post for his recruiting failures, but Stephenson said he likes how the Terps play.
"He's a good coach," Stephenson said. "I like the way he plays up and down. I play like that a lot. I think I can fit into all the programs. Maryland is up and down. I really like playing like that." 
February 25th, 2009 |
0 Comments »
No comments have been posted yet, be the first!
Post a comment by filling out the form below.