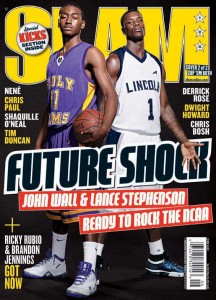 Slam Magazine has elevated the status of Lance by placing him on the cover with supposed #1 prospect John Wall. If Lance is going to St John's, I would expect the announcement today or tomorrow. There are no stumbling blocks to becoming a Johnnie. At Maryland there is the unknown presence of Greivis and at Kansas, Xavier Henry is still undecided. Enough for today.
April 14th, 2009 |
0 Comments »
No comments have been posted yet, be the first!
Post a comment by filling out the form below.