Junior Da'Rel Scott was named a candidate for the Doak Walker Award, which honors the top running back in the nation, for the second consecutive year.  Scott was one of 45 backs, including six from the Atlantic Coast Conference, selected as a preseason candidate for the award Tuesday by the Guaranty Bank SMU Athletic Forum Board of Directors.He is coming off one of the top seasons in school history and was a consensus preseason All-ACC choice this summer. Scott was a first-team selection by the Phil Steele's College Football Preview and a second-team choice by Athlon and Lindy's.The Conshohocken, Pa., native rushed for 1,133 rushing yards in 2008, the seventh highest single-season total in school history.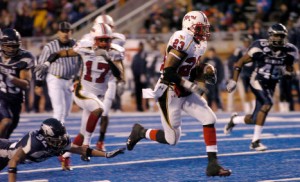 August 5th, 2009 |
0 Comments »
No comments have been posted yet, be the first!
Post a comment by filling out the form below.