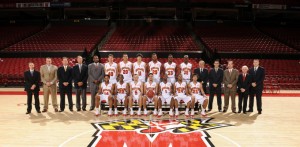 From Jeff Barker's  Sun column comes the following from Coach Williams:, "What we can do this year — which we couldn't do last year — is put [freshman] Jordan Williams into the game at 6-9, and then we're as big as anybody we play against," Williams said.  The coach said it's likely that junior Dino Gregory (Mount St. Joseph) would start at the forward spot vacated by the graduated Dave Neal, and that Jordan Williams and fellow freshman James Padgett would come off the bench.
Gary Williams said he wouldn't hesitate to use a three-guard lineup again. "What people overlook sometimes is that if we play three guards, our three guards might be [Greivis] Vasquez at 6-6, Cliff Tucker at 6-4 1/2 and Sean Mosley, who is only about 6-3 1/2 but he's like 220," Williams said. "He'd be a tight end if he played football. People forget how big these guys are."
So according to this articlethe starting lineup looks like it will be—-Greivis, Adrian, Sean, Landon, and Dino.
October 22nd, 2009 |
1 Comment »