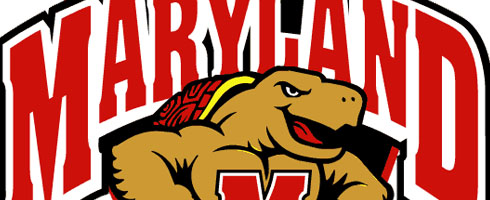 Total and thorough domination for the Terrapins tonight at Comcast as they move to 4-1 in ACC conference play. Highlights of another one sided victory.
Landon continued his torrid shooting, going 7-10 from the field. His short jumper is becoming deadly.
19 assists and only 11 turnovers tells the story for the Terps. gary surprised The U, by coming out in a half court trapping defense. Miami fell behind quickly and never really got into the game. The last 3 times when the Terps have been in Coral Gables, I have traveled to the game and watched Maryland go down to 3 defeats. Missing ingredient for the Canes: Jack McClinton.
Coach Frank Haith commented after the game: "Maryland's execution was great. They are a really good basketball team. They share the ball, they play together and their execution was outstanding. Gary's got a good club."
Greivis' line 16 points on 5-11 shooting, 2 rebounds, and 9 assists!! Audio from Greivis post game.Greivis Miami
At one point of the game the Terps were having problems with the zone. During a timeout Gary reminded the team to keep up the speed of the offense and thus 5 straight easy shots and the zone was put to rest. Gary's post game press conference. Wms after Miami
Sean Mosley works every possession. 10 points and 7 rebounds and 3 assists. Game in and game out , Sean sets the tone for the team with incredibly intense play.Mosley Miami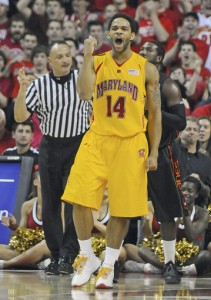 Dino Gregory again has been lifting his play game by game. As a Junior he is much more familiar with the offense and Gary is extremely comfortable with him in the lineup. Jordan Williams continues to have strong segments every game.
Eric Hayes again played a solid game finishing with 10 points with 4 assists and 0 turnovers.
Paul Baker, whom I have the honor of sitting with in Press row observed after 2 minutes of play that Miami would get destroyed. The Terrapins were clearly the hungrier team tonight.
With 4:36 left in the game the Terps were up by 31!!!! Miami struggled to even get off decent shots. The Hurricanes who are now 1-4 in conference play,committed 17 turnovers with only 5 assists. Guess this was never a trap game for the Terps.
Sellout tonight of 17,950.
January 27th, 2010 |
1 Comment »