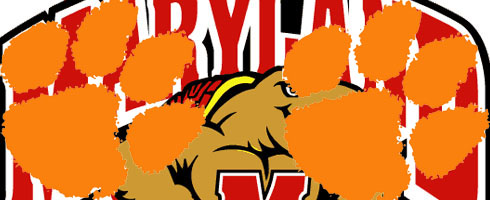 I almost bagged this blog tonight but I needed to get the thoughts of this game out of my system.
Let's give the Tigers some credit they played extreme physical ball–taking the Terps out of their comfort zone.  But remember the Terrapin defense was excellent virtually  shutting  down Trevor Booker.
The hardest part of success in the ACC is taking the confidence on the road.  Winning on the road takes a performance that is hard to define. It certainly wasn't there tonight in our offensive flow.. Combine 26 turnovers with 15 offensive rebounds for Clemson, and then add in Greivis' off game and you might think the Terps would have lost by 30.
The bright spot of the game was the continued growth of Jordan Williams. 13 points and 13 rebounds on the road–say no more.
It is hard for this team to win without a solid performance by #21. He is the heart and soul of this team as well as being the guy who the offense revolves around.
It's funny as soon as I heard Stitt was not playing , I really started to worry about the game. You just knew Oliver Purnell would have his troops rally and the injury gave Clemson a battle cry. Usually the first game a key part of the team is missing you will see a rallying point. But as it goes on his loss could cripple the Tigers.  I read that when he doesn't play Booker's game suffers as it did tonight . Trevor though rising at the end was 0-12 at 1 juncture.
So here's the bottom line–it's just 1 loss and the Terps are 4-2—3-0 at home and 1-2 on the road. Florida State is next and again will be a tough win to achieve. But will the Terps commit 26 turnovers and shoot 34%—I doubt it.  I fully expect a strong performance in Tallahassee Thursday night. We will actually be on as a sort of pre-preview at 6PM.   A win Thursday and this nightmare will be forgotten.
February 1st, 2010 |
1 Comment »