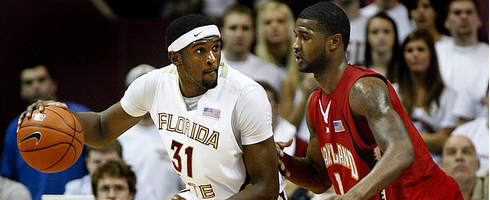 Observations of a great ACC road win.
The Seminole fans were brutal to Greivis tonight. They poured beer on him, booed every time he touched the ball, held up Deport Vasquez signs, etc—but —GREIVIS IS A WARRIOR. What a great effort tonight 21 points, 7 rebounds, 7 assists,—please don't let detractors criticize Greivis for a few mistakes. My Dad use to tell me he who makes no mistakes is one who does nothing.  #21's passes to Jordan Williams were classic. His all around floor game was superb. And beware if you taunt him, it only serves to elevate his game.
The Maestro coach Williams never hesitated to foul FSU with a 3 point lead in the final seconds. (Of course Calipari was too stupid to do the same and wound up costing Memphis the Championship 2 years ago.) I have yet to see a team make the first  and then miss the 2nd foul shot get the bound and make the basket.  Hats off to Gary for never wavering from the right decision.
Jordan Williams—WOW –7-11 from the field, giving Alabi all he could handle, and running the court as well as I have seen a freshman big  do so. Jordan is way ahead of where I thought he would be.
Mosley shut down Singleton though we need him to score. The shots that were falling are not even being taken by Mr Baltimore.
I wonder what Gary said top the team at halftime as the Terps came out of their malaise and were on fire to start the half.
Adrian, Cliff and Dino must score more and I mean by Sunday.
As I always say, for the Terps to win Eric Hayes needs to hit a few 3s.He did in the 2nd half and yes they were victorious.
Raycom needs to work on its HD coverage. The picture was very weak.
Again perhaps I saved the best for last. Landon Milbourne returned from his 1 game hiatus and turned in a stellar performance, scoring 18 points with 6 rebounds and 3 blocks.
February 5th, 2010 |
2 Comments »