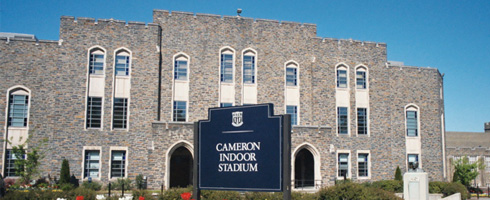 There is only an upside for the Terps today. But what an upside. Win and the Terrapins are back in 1st place the ACC. Here are some factors playing at Cameron:
I have been to Durham twice for Maryland games and Cameron Indoor is just a different place to play a game in. Playing Duke starts when you take the court for pregame—the students have already been there for an hour and they are ready—much similar to when the Dookies come here.
They can talk all they want above the no rival thing and they are full of it—this is a big game Saturday and who will the bullseye be on –none other then Greivis— The Dookies will be all over him from the second he takes the court–yet he loves it —Greivis just don't expend too much energy pregame—18-40 in 3 years at Duke
Duke shot horribly against Carolina Weds but we know that won't happen today.
Last year the defense was suffocating—we need to start strong keep the game in reach.
Key performer for this one—Sean Mosley–he is cool as a cucumber.
Jordan Williams first experience there. I can't wait to see how he responds. It is not fair to expect too much from a freshman.
Scheyer and Singler—this will be a close game—Lance Thomas looks like he is out and he has been the big guy leader —key guy not playing.
JUDGEMENT DAY for the Terps—1st place at stake—Enough said–Let's Get It On!!!!
February 13th, 2010 |
0 Comments »
No comments have been posted yet, be the first!
Post a comment by filling out the form below.