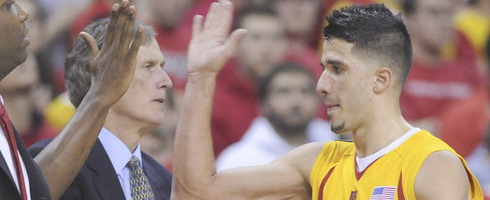 The bitter taste is gone. The Terrapins led by an incredible performance by Greivis coasted to a 19 point win only because Gary called off the dogs with 7 minutes left.  Some observations of the easy win.
In the 1st half Greivis scored 25 on only 13 shots. He also had 5 assists and 4 rebounds. He was flawless. I hope the strength of his game was transmitted on 360 because I know how that coverage can be sometimes.
Steve Francis, Michael Wilbon, Walt Williams, Johnny Rhodes, Vernon Davis were among the sports celebrities in the house tonight.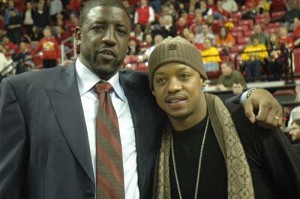 Eric Hayes had 1 dagger 3 early and dished 9 assists to go along with his 10 points.
Jordan Williams—11 points  11 rebounds in an inspiring performance.
Landon Milbourne bounced back from the Duke game with 7-11 shooting and 14 points.
Virginia had led the ACC in allowing only 61 points per game. The Terps scored 52 in the first half.
Mosley and Cliff Tucker did a great job on Landesberg holding him to just 12 points.
At halftime , Greivis' high school caoch, Stu Vetter, told me Greivis was " in a zone." Stu also said that Terrence Ross left school abruptly, an action that shocked him.
The wrestling team was honored at halftime.
The Terps moved to 7-3 in the conference, still unranked, and still flying under the radar. Next game at NC State on Wednesday night at 9PM.  T Terps almost resemble an NBA type squad with all the crazy traveling they are doing.
Gary on the game tonight: "I am not big on individual play usually, but the way Greivis [Vasquez] played tonight was exceptional and I think he got us off to a great start in the first half. It wasn't easy to get ready and play this game tonight, but the way we started the first half tonight really set the tone for the game. Cliff Tucker coming in to the game when Sean Mosley got into foul trouble was big for us. Eric Hayes was steady and wasn't feeling well before the game but he sucked it up and played a lot of minutes for us in the first half and it was important for us to get off to a good start. Landon Milbourne played great and got his 14 points for us, which I thought was very important. He learned some things down at Duke on Saturday and he was ready to go tonight. It was a great team effort tonight, but Greivis [Vasquez] was outstanding the way he got us [started] in the first half."
February 16th, 2010 |
1 Comment »