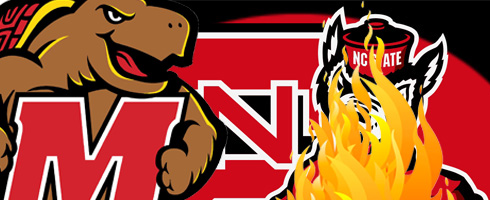 The Terrapins moved to 8-3 in the ACC Weds night with a thrilling come from behind win over NC State. Some key points:
ACC Player of the Year (at least on my ballot) Greivis Vasquez again willed this team to victory scoring 26 points with 6 assists.
Announcer Dan Bonner sickened me with his continued criticism of Jordan Williams. Jordan was 7-10 from the field scoring 19 points to gop along with 11 rebounds but all Bonner could do was nitpick his game. Dan, he's a freshman on the road in the ACC and he just nailed a double double. Wake up!!!
Adrian Bowie keyed the comeback with his 2 three point shots in the 2nd half.
Sean—shoot the ball. You are taking the word unselfish to new levels.
On a night when Eric registered a bagel and landon was fairly quiet, Greivis took over.
Why did Sidney Lowe take out Horner? what could he have been thinking.
I would have paid to have been in Maryland's locker room at halftime.
Incredibly the Terps are 5-0 at home and 3-3 on the road.
What in the world was Comcast thinking in relegating the Terrapin game to CSN Plus and showing the Wizards game in HD. What?
February 18th, 2010 |
2 Comments »