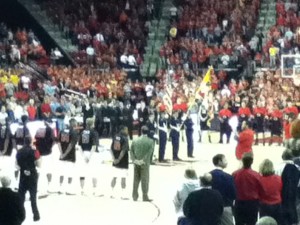 There's something about opening night at Comcast that get's my blood flowing, helps me forget about back pain, takes my mind away from Saturday's loss to Miami,etc. It's hoops time and you can just feel the excitement. Who will be the take charge guy for the Terps. Can Maryland get through the terrifically difficult early season schedule? I have waited for this game since Michigan State lucked out in the 2nd round.
Watching the Terps warm up, there seems to be a quiet confidence. When those question where will the 46 points lost to graduation will come from, I believe the new found independence of not having Greivas present will have everyone looking for his shot. Figure Mosley, Jordan, and Bowie must increase their averages by an aggregate 18 points and the rest will come from the newcomers from a broader bench. With Bobby Cremins Charleston team coming in Wednesday, the Terps need to get off to a great start against Seattle. We shall see.
November 8th, 2010 |
0 Comments »
No comments have been posted yet, be the first!
Post a comment by filling out the form below.