A post by Jordan
            It's time for Terp fans to start trusting the process. Melo Trimble was, as we knew was a possibility, undrafted last night. Melo will still get his chance though, he was signed last night at 10:48pm in the unofficial "3rd round of the draft", the frenzied hours immediately following the draft to sign undrafted rookies. Due to his status as an undrafted free agent Melo will have to fight tooth and nail to earn a roster spot next season.
It's hard to see Melo having much game time next season considering the Sixers used the number one pick on fellow Prince Georges county native Markelle Fultz, and already have the relatively young TJ McConnell on the roster under one of the most team friendly contracts in the league (3/yr 2.4 mil with a 4th year team option). Melo will likely end up on the 76ers G-League squad, the Delaware 87ers during his first year. No matter where Melo ends up he will always be a great Terp, and we will always support him. Congrats Melo on the start of your NBA career! Hopefully the process treats you well.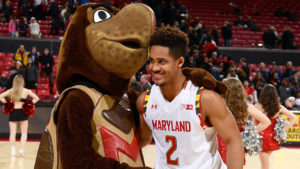 June 23rd, 2017 |
0 Comments »
No comments have been posted yet, be the first!
Post a comment by filling out the form below.