We talk about new basketball recruit Trace Ramsey, as well as two (!) new football recruits. We also breakdown Maryland's epic lax win at Hopkins as well as a brief look at Terps in the draft.
We talk our newest basketball recruit Serrel Smith, and a whole lot of lacrosse.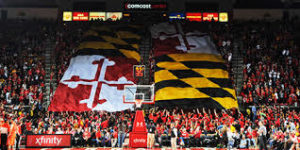 This is a big get for Maryland.  Maryland needs backup point guard play and this is a highly rated combo guard.  Ranked 13th best guard in America.
From the University of Maryland –
COLLEGE PARK, Md. – Head coach Mark Turgeon announced the signing of guard Serrel Smith to the class of 2018 Wednesday. Smith's addition bolsters a consensus top-15 … Read More »
St Frances is the BCL champion, but controversy mars the victory – find out what happened…

On this weeks episode we discuss Maryland 37-21 loss to Northwestern and Basketballs newest commit Eric Ayala
We cover a wide range of topics including:
More Football previews Football prospect analysis Basketball Recruiting News
Virginia Beach Receiver Darryl Jones Committed last week. Here are some of the 6'2″ receivers highlights from last season via Hudl:

Terps 2018 Basketball Commit Jalen Smith has been playing in the Las Vegas classic AAU tournament for Team Takeover over the last few days. Courtside Films put together a nice highlight tape for Smith. The tape showcases his shooting game and wide offensive skill set. He already looks like he has put on some muscle since we last interviewed him, if he keeps gaining muscle and improving his game he may be a true force by the time … Read More »
The first commits of the 2019 Maryland Basketball class have been landed. Earlier today top-100 rated twins Makhi and Mahkel Mitchell of Bishop McNamara verbally committed to the Terps as first reported by Terrapin Times. The twins are both 6-9 post players, with Mahki at center and Mahkel at Power Forward.
This will probably impact the recruiting of 2018 prospects Moses Brown and Silva de Sousa. Although this remains to be seen as both Brown and de Sousa probably expect to … Read More »