We run through some Terps news including what players have new basketball numbers, before starting our football previews. 41 days till Texas!
24 hour sports day after waking up at 3AM to watch the USA — Canada Lacrose Title Match
Incredible day at the Open Championship–Jordan rebounded to shoot 6 under and share the lead with Kevin Kisner and Xander Schauffele. Leaders tee off at 9:45. Tiger is lurking at 5 under … Read More »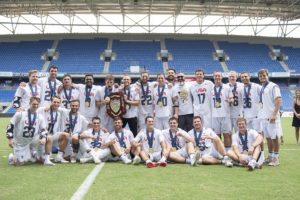 What a great day for Team USA and the 5 Terps representing Terrapin Nation.
Michael Erhardt–a ground ball machine and tremendous defender who received the MVP Award
Jesse Bernhardt– … Read More »
From Wednesday evening with Bruce, Stan Charles, Dennis Koulatsos, and Wayne
Talking All Star Game and British Open
Pat Coyner checks in to give his analysis on the Open Championship
I will have a wrap up on the 3AM Lax World Championship game between the US and Canada from Netanya, Israel
Complete analysis on the Machado trade
Why Manny's departure was an inevitable conclusion years ago
How long … Read More »
from espn.com
The Los Angeles Dodgers won the Manny Machado sweepstakes, getting the prized All-Star shortstop from the Baltimore Orioles in a trade Wednesday night.
The Orioles received five prospects: outfielder Yusniel Diaz, right-hander Dean Kremer, third baseman Rylan Bannon, righty Zach Pop and third baseman Breyvic Valera.
"Obviously, it's a bittersweet day … Read More »
Comments on attending the All Star Game in Nationals Park:
Got there real early —5PM–no problem parking, no problem getting home though I left after 8 innings
Just a great atmosphere with all the fanfare that accompanies an All Star game
Walks Strikeouts and Home runs is what the game … Read More »
Dustin Johnson              10-1 Justin Rose .                    10-1 Rickie Fowler .                12-1 Rory McIlroy                   12-1 Jon Rahm          … Read More »
After a Terp news rundown we talk about: How our Terps are doing in the NBA summer league, Damon Evans massive new contract, and how NBA success effects recruiting.
At the game yesterday, when Machado was removed from the game after the 26 minute rain delay, a buzz went around the stadium that an announcement of the "Machado trade" was imminent.  Not the case. However, perhaps it was a clear indication that Manny will now be protected as the … Read More »