Maryland has narrowed down the Athletic Director (AD) search to 3 finalists according to a report early this morning from Don Markus of the Baltimore Sun.
Hearing that Maryland will be interviewing three finalists – Temple AD Patrick Kraft, former Tennessee AD John Currie and acting Terp AD … Read More »
The "Young Terps"—one of top Podcasts in the country join the show for some Terrapin discussion.
Kevin Huerter awaiting his NBA fate and it has $$$$$$$$$ written all over it
My take on the "Lefty" putting debacle in the US Open
Barry Trotz gone—do the chances for a Stanley Cup … Read More »
From listening to NBA radio all day, it sure seems like it. LeBron, Kawhi Leonard, Paul George, and maybe even Chris paul to the Lakers. Of course if Popovich would ever agree–somehow it would take Kuzma, Ingram, and maybe even Randle to complete the deal. But most important Kevin Huerter … Read More »
As many sports columnists have now given Lefty a pass on his disgraceful performance on Saturday, let it be said don't include me on the list. To me it is incomprehensible that he wasn't immediately dq'ed and he created some idiotic story about it being a logical move. A lot … Read More »
Join Bruce with guest Pat Coyner as they talk US Open golf and more.
Listen here
Talking about the passing of Jordan McNair, US Open golf with Pat Coyner, the Ravens with Dennis, Caps win the Stanley Cup and more. Hosted by Bruce Posner with Wayne Viener.
Sometimes we get a chance to see a really cool event and this is one of those times – Bruce went to see the Springsteen Broadway play, here is a clip
SET LIST
Growin' Up My Hometown My Father's House The Wish Thunder Road The Promised Land Born … Read More »
From the Big Ten Network
With deep sadness we report that – Jordan McNair has passed away this afternoon.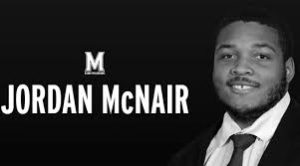 Our condolences to the his family and his teammates.