Dan Metzger's goal in the waning moments of regulation was the difference as No. 2 Maryland defeated Brown 2-1 in the second round of the 2012 NCAA Men's Soccer Tournament Sunday at Ludwig Field.
Bobby Belair scored early for Brown (13-3-3), before goals by Patrick Mullins and Metzger lifted Maryland (18-1-2) to the third round for a nation-best 11th season where it will face Coastal Carolina in next week's third round.
My Quick Take on the game:
The Terps are rarely on their heels  in Soccer games at Ludwig. But this cold Sunday night was an exception. Sasho said that Brown had closely studied the Clemson game and played the Terps in an extemely physical manner. Patrick Mullins' goal just before the end of the first half to knot the game at 1-1, normally would frustrate the opponent but not tonight. The 2nd hald was just as tough and Maryland had to survive several near misses from Brown. A credit to the Terps that they found a way win as Dan Metzger persevered by scrambling to nail the game winner after a corner kick was loose in the box. game after game Patrick Mullins has scored a crucial goal when things were looking bleak for the Terps. This was just a thrilling team win for Maryland who now awaits Coastal Carolina in the round of 16 nest Sunday at 5PM at Ludwig.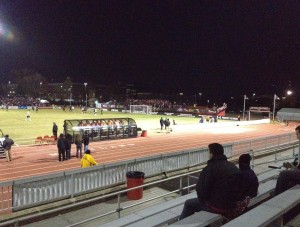 Post a comment by filling out the form below.