#24 Maryland dismantles Minnesota 69-60 to finish off their regular season 22-9
A fitting send off for Senior Night and possibly Fernando`s last game at Xfinity Center
Written By: Zachary Wilson 3/9/19
The lead up to this game was looking grim for the young Terps, who lost two in a row heading into the Friday night game hosting Minnesota. After a tough loss to Michigan it seemed as if Maryland was going to end their regular season on a muted note.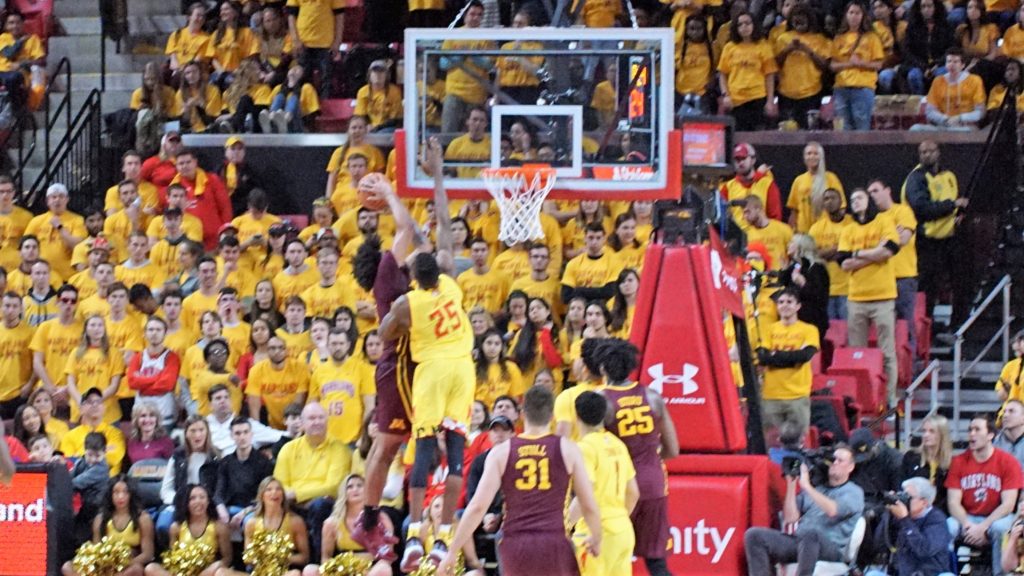 On the opposing side, Minnesota came into College Park riding a hot streak and looking to close out the season similar to Maryland in record. Riding two straight wins against Northwestern and 11th ranked Perdue, the Golden Gophers seemed like a worthy opponent to send Maryland off with a loss to end their hopes of a double bye in the Big Ten Tournament.
Tonight, Maryland rode a hot start on Senior Night to a solid win over the Gophers.
Anthony Cowan lead the beginning assault with a three to get the offense going. The Terps pushed to a 9-4 lead right out of the gate, with Jalen "Sticks" Smith getting hot at the right time and nailing back to back three pointers. Maryland stood up to Minnesota, forcing turnovers and closing out on shooters through very tight and strong defensive schemes spearheaded by Mark Turgeon. Maryland's strong defensive stops turned into fast break points.
Minnesota racked up six turnovers in the opening 12 minutes, a clear sign of being outmatched from the gate. Gopher scoring guard Amir Coffey managed to slide in 3 three point shots in the first half, two of them back to back. However, his performance was better characterized by the volume of shots he missed. The gophers would nail a 3 before the half and cut Maryland`s lead to 12.
The second half would prove to show Maryland`s true force on both ends of the ball, characterized by scoring 18 points off of turnovers alone as compared to Minnesota`s 4. In essence, this game was decided by the turnover margin, in which Maryland was +4.
Maryland's tough defense forced the visiting Golden Gophers to shoot only 38.2% overall. It looked like they were not prepared to handle an aggressive defensive style like this and their scheme changes during half time did little to adjust.
The most influential play came from Jalen Smith in which he landed a crucial block on Jordan Murphy amidst a Golden gopher run that could have mounted a comeback. Maryland would then proceeded to run back down the court and have Anthony Cowan nail a three. Not often this season has Maryland managed to fully stop a team dead in their tracks during their own point drought and turn a negative into a positive.
At the end, Turgeon trotted out a lineup featuring Andrew Terrell and Ivan Bender to close out the win and commemorate the annual Senior Night festivities.
Tonight`s Notable Stat Totals:
Bruno Fernando-11 points, 11 rebounds, 20th double double this season
Jalen Smith-19 points, 11 rebounds, 3 blocks, perfect free throw shooting, and 50% from beyond the arc
Anthony Cowan Jr-21 points, 5 assists, also 50% from beyond the arc
Darryl Morsell-10 points, 3 assists, and 3 rebounds
March 9th, 2019 |
0 Comments »
No comments have been posted yet, be the first!
Post a comment by filling out the form below.