Maryland recuit Sean Mosley and Towson recruit Troy Franklin led a 2nd half fastbreak surge that resulted in an easy victory for the Baltimore All Stars at Towson Center last night.  Mosley finished with 15 points, 6 rebounds, and 6 assists, and played his usual unselfish well rounded game.  Franklin displayed his dazzling point guard guard skills that he will continue next year for Pat Kennedy. Listen to Sean's post game comments on the crowd. mosley-22  Memphis will be way too strong for Kansas tonight–look for a 80-68 win for the the Tigers. I have to mention that it is the Baltimore Orioles in first place today!!!!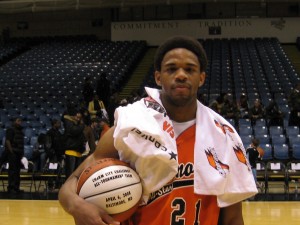 April 6th, 2008 |
0 Comments »
No comments have been posted yet, be the first!
Post a comment by filling out the form below.