Stephen Peyser and Paul Rabil knew the stakes were high today and responded by leading the Blue Jays to an easy 10-4 triumph over Maryland.  Maryland seemed to never have the ball today , getting destroyed in the faceoff battle which we knew would be so crucial. Cottle's post game commentscottle-post-game-hopkins centered on this fact.  Coach Pietramala comments post game petro-and-hopkins-post-game  The offense power the Terps displayed in the Virginia game seems to have disappeared for the time being.  Next up for the Terps is Penn –1PM Saturday at Byrd Stadium.  The Lady Terps lacrosse team fared much better defeating North Carolina 10-8 at Chapel Hill behind the 4 goals scored by Senior Co-Captain Kelly Kasper.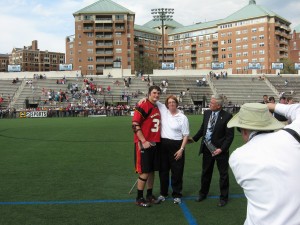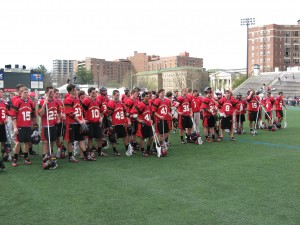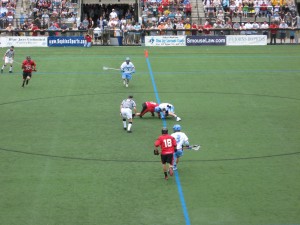 Top Left—Brian Farrell named Terps MVP for Hopkins game
Top Right  or middle—Dejected Terps watch post game ceremonies
Bottom–  Opening Faceoff of 104TH Maryland Hopkins Game
April 13th, 2008 |
0 Comments »
No comments have been posted yet, be the first!
Post a comment by filling out the form below.