The seeding Gods were kind to the Lady Terps last night, allowing them to open in the first round with Temple at College park at 1PM on Sunday.  The winner of Duke Georgetown would be the Terps next opponent should they prevail over the Owls.  Again the Men open on Saturday at 12PM against Denver.
     Last night, I attended the Terrapin Club meeting at the Hilton in Columbia.  Ralph, Gary, Brenda and Debbie Yow presented a state of the program report.  Ralph spoke of the Senior experience on next year's team, stating that Chris turner stii has a slight lead on the QB race. Gary was certainly excited about the propects of next years team and the incoming recruits. Brenda spoke of the previous year especially thanking her assistant Coach Darren park for his help during the past year.  Debbie spoke of the coaching changes in swimming, volleyball and wrestling.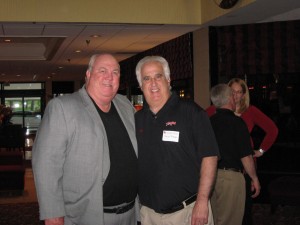 May 6th, 2008 |
0 Comments »
No comments have been posted yet, be the first!
Post a comment by filling out the form below.