The Lady Terps disposed of Temple 20-7 on Sunday and will face the Blue Devils Saturday at 1PM at College Park, with the winner advancing to the Final Four.  Duke defeated the Terps in Durham earlier in the year.  UVA outlasted UMBC 10-9 to set up the Quarterfinal at Navy against the Terps.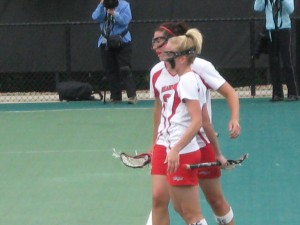 Dana Dobbie and Kelly Kasper celebrate goal .
           At College park yeaterday, Virginia Tech shut out NC State to win the ACC Softball Championship.
     In some other sporting news.  Pimlico awaits the arrival of Big Brown for the Preakness.  Phoenix will rue the day they let Mike D'Antoni leave and become the Knicks head coach.  The lack of hitting of the Orioles is ruining some of the best pitching we have seen in the last decade. Look for the Cavs to even up its series with the Celtics tonight.  Sergio is back–winning the Players Championship.
May 12th, 2008 |
0 Comments »
No comments have been posted yet, be the first!
Post a comment by filling out the form below.