The greatest female lacrosse player of all time and the current assistant coach of the Lady Terps, Jen Adams has left her beloved Maryland to become the Head Coach of the Loyola Lady GreyHounds.  Schooled on the game by the legendary Gary Gait while at Maryland, Jen will certainly help Loyola regain its status among the  lacrosse elite.  Loyola also announced that Shane Walker has transferred to Loyola to play ball under Jimmy Patsos. Under NCAA rules , Shane will have to sit out this year but will have 3 years of eligibility left.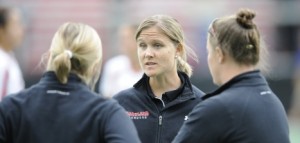 Heading up to the Big Apple today to hopefully watch Big Brown finish the task.  The O's behind three 8th inning homers came from behind to edge Toronto 6-5 and return to .500 ball at 30-30.  Adam Jones again for the 3rd time this week provided the game winner with his 2 run blast.
June 7th, 2008 |
0 Comments »
No comments have been posted yet, be the first!
Post a comment by filling out the form below.