The Hall of Fame banquet last night triggered a spectacular Saturday at College Park.  Maryland could become bowl eligible by taking care of business and defeating NC State at 3:30 PM. This game will be tougher then the experts are predicting as the Wolfpack is out to avenge last years 37-0 drubbing , the Terps dished out.  But Chris Turner is too tough at home and Md wins 27-17. The game is blacked out so take advantage of the supposed 3000 tickets left for the game. 
    At 12:15 Gary has opened up his annual Red White scrimmage to the public at no charge.  Watch #14 Sean Mosley mesh with his new mates.  Then walk about 100 yds from Comcast to the Field Hockey complex to watch #1 Maryland take on #5 North Carolina.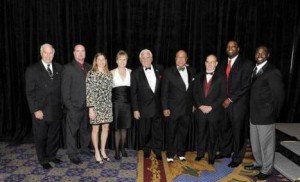 Hall of Fames inductees—The new inductees include Kelly Amonte-Hiller, Keith Booth, Kim Chorosiewski, David Diehl, Brian Dougherty, Darryl Hill and the Hon. Thomas V. "Mike" Miller.
October 25th, 2008 |
0 Comments »
No comments have been posted yet, be the first!
Post a comment by filling out the form below.