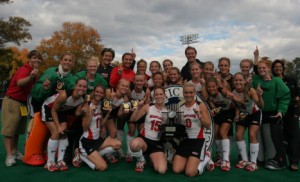 Terrapin Nicole Muraco scored with 2 minutes left to lead Maryland to a 4-3 victory and thus the Acc Championship. Katie O'Donnell led the way for the Terps with 3 assists. The NCAA Tourney and the quest for a National Championship awiat Maryland. Hats of to Coach Missy Meharg.
November 10th, 2008 |
0 Comments »
No comments have been posted yet, be the first!
Post a comment by filling out the form below.