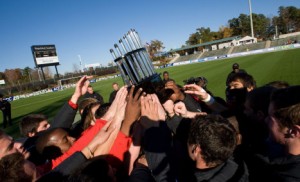 Jeremy Hall's goal in the 3rd minute of the game held through to the end as theTerrapin Soccer team captured the ACC title defeating the Cavaliers.  Casey Townsend was stellar on attack barely missing several scoring opportunities. Freshman goalie Zac MacMath registered his 3rd straight shutout –8th of the year, leading the Terps to an automatic bid for the NCAA Championships!!!
November 17th, 2008 |
0 Comments »
No comments have been posted yet, be the first!
Post a comment by filling out the form below.